21 October 2020: Guys I'm Emo Now
Set 1
"Empty Bottle" by Long Beard
Long Beard is a solo artist, and she does not have a beard.
"That Summer, at Home I Had Become the Invisible Boy" by the Twilight Sad
"Quiet Little Voices" by We Were Promised Jetpacks
"Apartment Story" by the National
"Better" by Caracara
Set 2
"The Closing Door" by LVL UP
"Gengar! Gengar! Gengar!"1 by Dowsing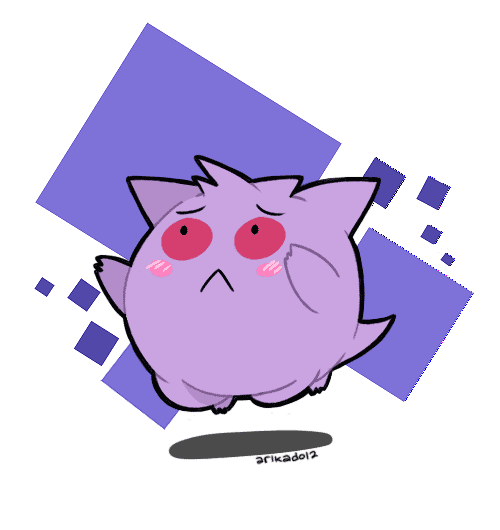 I was going to just put a GIF from the anime, but this is way more in line with the song.
"Ghost Under Rocks" by Ra Ra Riot
Misheard lyric I didn't realize until after the show: I thought he says "Oh, oh, all your soaking wet dreams," but apparently it's actually "Oh, oh, oh, you soak in one dream". Guess I've got a twisted mind.
"Don't Hate Me" by the Get-Up Kids
"Live in a Hiding Place" by Idlewild
"Some Kind of Cadwallader" by Algernon Cadwallader
Set 3
"Keep Growing" by Camp Cope
"The Getaway" by Pretty Girls Make Graves
"Art is Hard" by Cursive
"Doctor Whomst" by Origami Angel
These guys are another band who are around my age and deal a lot with stuff that I can relate to, even moreso than Dogleg, since a lot of their songs are just plainly about nostalgia or being happy. For example, this song name drops Danny Phantom, and they're huge Pokémon fans (they even made a Gen 3-themed EP).
"Always" by blink-182
"Fear of Drowning" by British Sea Power
Set 4
"Oh Messy Life" by Cap'n Jazz
"1901" by Phoenix
This song is nostalgic for me, as well as the next one. Reminds me of when I got my iPod Touch in the early 2010s. Phoenix, Arcade Fire, Vampire Weekend, etc
"City With No Children" by Arcade Fire
The Suburbs is celebrating its 10th anniversary this year, somehow.
"Cancel on Me" by Bombay Bicycle Club
"You! Me! Dancing!" by Los Campesinos!
Closing
"Transatlanticism" by Death Cab for Cutie
"Take Me!" by the Wedding Present
Streaming
---
NB: A good explanation of why Gengar is one of my favorite Pokémon is just the results you get when you google "gengar gif". The whole line is just really funny; all they want to do is play, it just sometimes means scaring people. I just hope if I had one it'd be loyal and not play me. (I think I can trust BENJI) ↩