7 April 2020: Sinking to the Bottom (RIP Adam Schlesinger)
Note: Due to some technical difficulties this episode, which was prerecorded, never actually aired on whcsradio.org. However, you can still listen to it here.
Set 1
"Lilacs" by Waxahatchee
From her new album Saint Cloud that came out two weeks ago. This was one of the pre-release singles, and it's one of the highlights. The album on the whole is more country-tinged than anything she's done before, and even though I'm far from a country fan I think it worked well for her.
"Sink to the Bottom" by Fountains of Wayne
From their 1996 debut album, which was recorded by Schlessinger and singer-guitarist Chris Collingwood, with a guy named Danny Weinkauf (who's now in They Might Be Giants) on bass. If you aren't familiar with them outside of "Stacy's Mom," this album is the place to start
"The Modern Age" by the Strokes
From now on I'm not gonna write anything when I play the Strokes unless I actually have something to say.
"Nobody Move, Nobody Get Hurt" by We Are Scientists
First heard of these guys and this song when someone showed me the video for it and wanted to reenact it. They've been called Hot Hot Heat soundalikes, and the influence is definitely there, but I wouldn't mistake one band for the other by any means.
"Heathers" by Prism Bitch
I played them a few weeks ago, and this is a newer single from them. Hoping they've got an album coming soon.
"About Your Dress" by the Maccabees
These guys got buried in the "indie wasteland," but they honestly deserve more than that. They do sound a bit like the Futureheads, but I honestly prefer them to, say, Field Music, who were more well recieved. From their first album, Colour It In.
Set 2
"Don't Believe a Word" by Ivy
Ivy was Adam Schlesinger's other band, although I'd hardly call it a side project since they formed before FoW. They're a lot more dream-pop-y, and singer Dominique Durand (who also lent backing vocals on the first FoW album) has a voice that almost recalls Stereolab.
"Percolator" by Charly Bliss
I put off getting into them for a while, so until like last month I thought Charly Bliss was a person. When I first listened to the album (there debut, Guppy, that is) I thought it was a little same-y, but coming back to it, it's actually quite enjoyable.
"Stacy's Mom" by Fountains of Wayne
I had to do it.
"Grenade Jumper" by Fall Out Boy
From their first (and most punk) album Take This to Your Grave. The band wrote it about their early fans who supported them when people weren't looking. Chris is actually a real person; apparently there was some sort of dispute between him and Pete Wentz but they made up? I'm not sure.
"Just the Girl" by the Click Five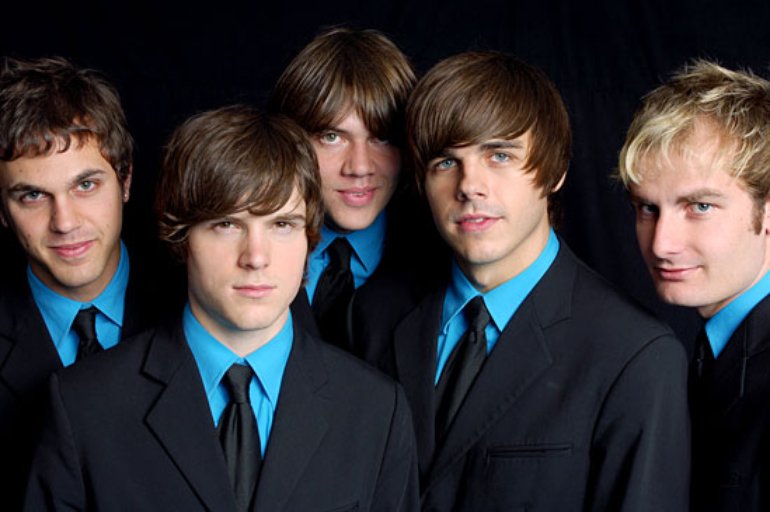 These guys were kinda doofuses and critics didn't care for them—IGN gave the album a 0.2/10 and called the band "an aborted fetus"—but this song, written by Schlesinger, is honestly a fun, goofy listen. The music video is worth checking out too, because it's pretty much exactly what you'd expect from mid-2000s early Beatles lookalikes.
"Bandages" by Hot Hot Heat
Thought of this after I played We Are Scientists and felt like hearing it. From their debut album Make Up the Breakdown, which is worth listening to in its entirety if you like this kind of stuff.
Closing
"This is the Day" by Ivy
Wanted to close out with another Ivy song. This one was featured in There's Something About Mary, and critics liked it, but weirdly it didn't earn them any success.
Streaming